Becoming the Best Archer, Shooter and Hunter
We will provide you with the right solution for archery and firearms ownership in a professional and customer-centered environment. There is nothing in the store we wouldn't use. And as a family owned and operated archery and firearms pro shop, we are committed to outfitting you with the best gear and training to meet your needs. No matter what you are looking for, we have the knowledge and equipment to get you there.
Stop into our full-service store, where we carry a wide variety of the finest bows from PRIME, Mathews, Bowtech, PSE, Bear, and Mission. Firearms range from Glock, Sig, Smith and Wesson, Christensen Arms, Bergara, Tikka, Benelli and more. Our accessories are from top companies including TightSpot, Hamskea, Vapor Trail, Gas Strings, Black Gold, Spot Hog, QAD, and others. Firearm accessories include CMC Triggers, Aero Precision, Magpull, and SureFire.
Can't find what you're looking for?
Archery Services
• Full-service compound and long bow repair and tuning
• Full crossbow repair and tune up
• Custom arrow builds
Firearms Services
• Pistol and AR repair and upgrades
• Sight replacement and upgrades
• Trigger upgrades
• Scope mounting and bore sighting
• Silencer Shop Kiosk
Box Blinds
• Shadow Hunter
• Banks
• Titan
• Millennium Buck Huts
• Greylight Twilight
Electric Hunting Bikes
• Rambo
• QuietKat
• Bakcou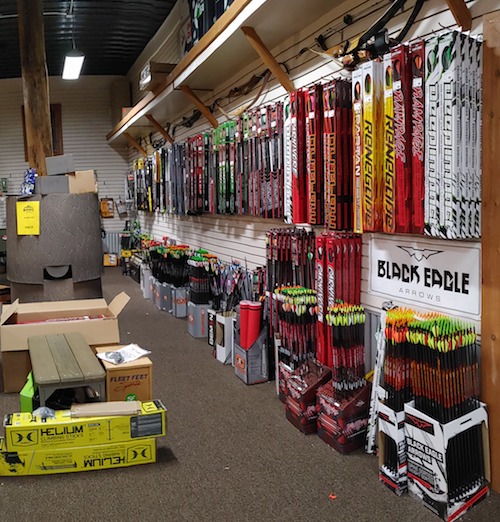 Arrows
• Victory
• Black Eagle
• Easton
• Carbon Express • Gold Tip
STOP IN TO SEE OUR WIDE SELECTION OF GEAR
"Amazing shop!!
They have all your hunting and firearm needs taken care of! They are incredibly friendly but more importantly they are so honest!! Will definitely be back!!!"
–Missy
"The staff was extremely knowledgeable and gave the impression they wanted to be there and help. You truly are doing yourself a disservice if you don't pay Long Range Archery a visit.
Thank you again guys for all your help."
–Logan
"Was recommended by friends to go see these guys for a new sight. Ended up with the Spott Hogg Fast Eddie 3 pin. They helped set everything up. They also timed and tuned my bow… I do not normally write reviews, but these guys are top notch and know their stuff. I drove 2 hours to see them and will continue to make the trip for any archery and hunting needs."
–Chris
"Best archery shop in the state! Knowledgeable, friendly staff. Always giving back to the community. Great to have them in Holland!"
–Dan